Prevention
Strictly speaking, the detection of leprosy does not exist since the way in which the disease is transmitted and acquired is still not very well known, due to its very long incubation period. One way to combat the disease is through the rapid detection of new cases and their timely access to treatment in order to stop contagion to other people and prevent the severe disabilities associated with the disease.
Prevention therefore requires raising public awareness in rural and urban areas – by disseminating knowledge about the disease as widely as possible – as well as training healthcare workers.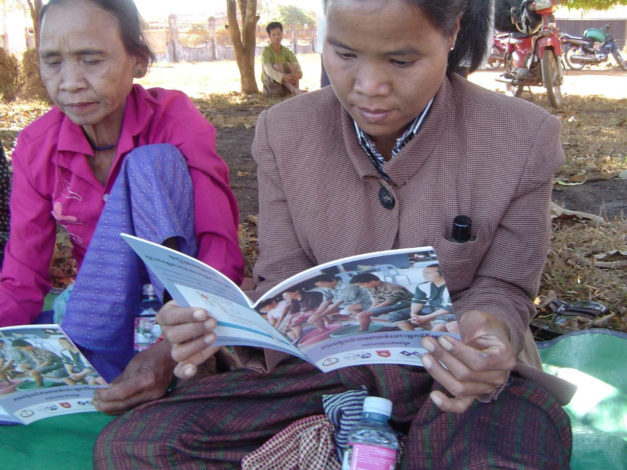 Disability Prevention
Due to damages to their nerves, people affected by leprosy may injure themselves while carrying out their daily activities. They may then suffer aggravated ulcers. This risk can be reduced with appropriate self-care. People affected by leprosy receive training on basic care during their stay at Kien Khleang center or during the field visits of the healthcare staff.
Self-care training involves physical exercises, learning the simple steps to treat a wound, carrying out daily activities such as cooking or gardening in a safe manner.
These trainings include:
a physical evaluation by a physiotherapist;
self-care instructions and practical exercises focusing on the eyes, feet and hands;
practicing the use of tools and utensils necessary in everyday life to avoid getting injured;
distributing adapted footwear and kit (gloves, glasses);
each participant receives an illustrated booklet summarizing all the information provided during the training.
These training activities are carried out by the medical staff at the rehabilitation center of Kien Khleang.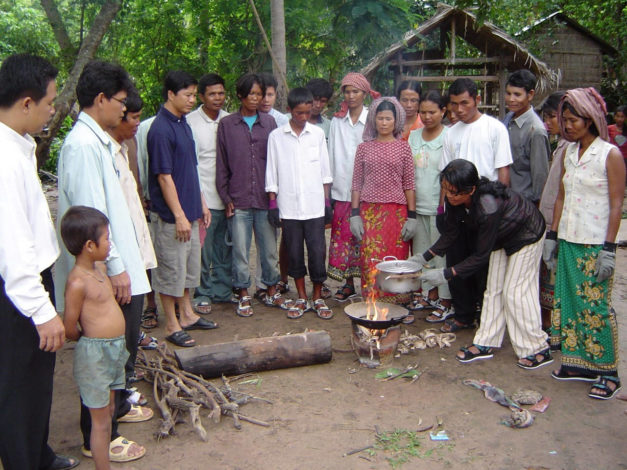 Awareness Raising
Leprosy becomes an incapacitating disease when neurological damages appear in the eyes, hands or feet. At its initial stage, most often a painless spot on the skin, the disease does not cause any particular problem, which means that people usually dismiss the lesions as banal and delay seeking a consultation. Yet, it is at this stage that antibiotic treatment is most efficient and may avert the onset of complications, hence the importance of raising awareness as widely as possible about the early signs of the disease.
In Cambodia, behaviors and practices relating to leprosy are still faced with many challenges and taboos:
for many people, leprosy is still a hereditary and incurable disease
discrimination and stigmatization are still too frequent
ignorance and weaknesses remain high in the services in charge of fighting leprosy
To overcome these challenges, the following strategy has been implemented:
dissemination of a message explaining clearly that it is possible to treat leprosy and that treatment must be started as soon as possible to avoid any disability
visual campaigns (theater, television, posters) showing leprosy signs on the skin to facilitate early detection
regular information campaigns in garment factories to draw the attention of garment workers to any symptoms of concern.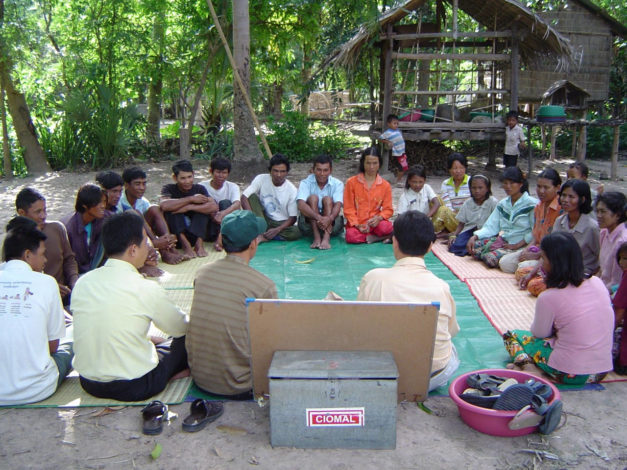 Awareness campaigns in garment factories
Since 2005, CIOMAL has developed awareness campaigns in garment factories. Twice a year, CIOMAL teams, together with employees of the Ministry of Social Affairs and the National Leprosy Elimination Programme, distribute documents and provide trainings in 12 garment factories, different ones each time. Thereafter, every year, nearly 30,000 garment workers then distribute them in their villages and communes.
In 2017, campaigns were carried out in 12 garment factories, 26,000 flyers and 511 posters were distributed. 385 trade unionists and 20 health workers received information about the disease. These campaigns are conducted prior to the holidays of Khmer New Year in April and the Festival of the Dead in October, when garment workers go back to their families and villages.

To ascertain the impact of these campaigns, our team has interviewed 250 garment workers: over 97.2% understand that leprosy is contagious, know how to recognize the first signs, know that treatment is free and all know where to go to receive treatment. In the communities, 50 people have also been interviewed: 62% have received documents from their relatives working in the factories, 90% understand that leprosy is contagious, 88% know how to recognize the first signs, 74% have learned that treatment is free, and 98% know where to go to receive treatment.
TV retransmissions on theater shows
Pekmi troop is a comic-burlesque troop playing in a traditional way, very famous and appreciated in Cambodia. Pekmi's troop usually performs through TV and is one of the most famous troops. But the troop also travels through provinces to perform locally. This troop is particularly appreciated because although the players are comic, they always play on serious themes, and they don't make any political allusions. They are appreciated by every generation.
CIOMAL worked with them in order to make them understand well the main issues about leprosy and the fight against stigmatization and then they integrated the theme into their comics.
In 2017, for security reasons at the approach of presidential elections, the troop avoided performing in the provinces and focused on TV shows. CIOMAL asked Pekmi troop to also perform about leprosy awareness raising TV show.
In total, there were 24 TV transmissions of Pekmi show on leprosy during 2017.
67th World Leprosy Day
To celebrate the 67th World Leprosy Day, CIOMAL Foundation organized two events – one in Geneva and one in Phnom Penh – to raise awareness about the disease among as many people as possible. Hundreds of people attended, including donors, members of national and international organizations, students from various universities and dozens of patients formerly afflicted with leprosy.
In Cambodia, the event involved a one-of-a-kind educational play, "I am not contagious", created and performed by patients and staff at the CIOMAL-managed hospital. The play sent a message of hope: leprosy is curable, and nothing justifies the stigmatization of the people it strikes.
For many participants, this year's celebration was a joyful event that will stay in their hearts for a long time. CIOMAL Foundation is very pleased to be able to contribute to the happiness and joy of those who are ill and spread a clear message about leprosy. We look forward to continuing to give our support to improve the wellbeing of people living with leprosy in Cambodia and around the world.
Leprosy still affects more than 3 million people (sick or recovering) and mostly afflicts the poorest parts of the world. Over 240,000 new cases are detected each year, 5% of which are children under the age of 15. Because of the marks it leaves on the skin, leprosy can also lead to social exclusion, especially in schools, the workplace and health centers.
A key player for more than 60 years, CIOMAL Foundation focuses its work on several different areas: prevention and raising awareness, early detection of the disease, medical and surgical treatments, socio-economic rehabilitation and strengthening local skills.