Miss Kunthy's Blue Dream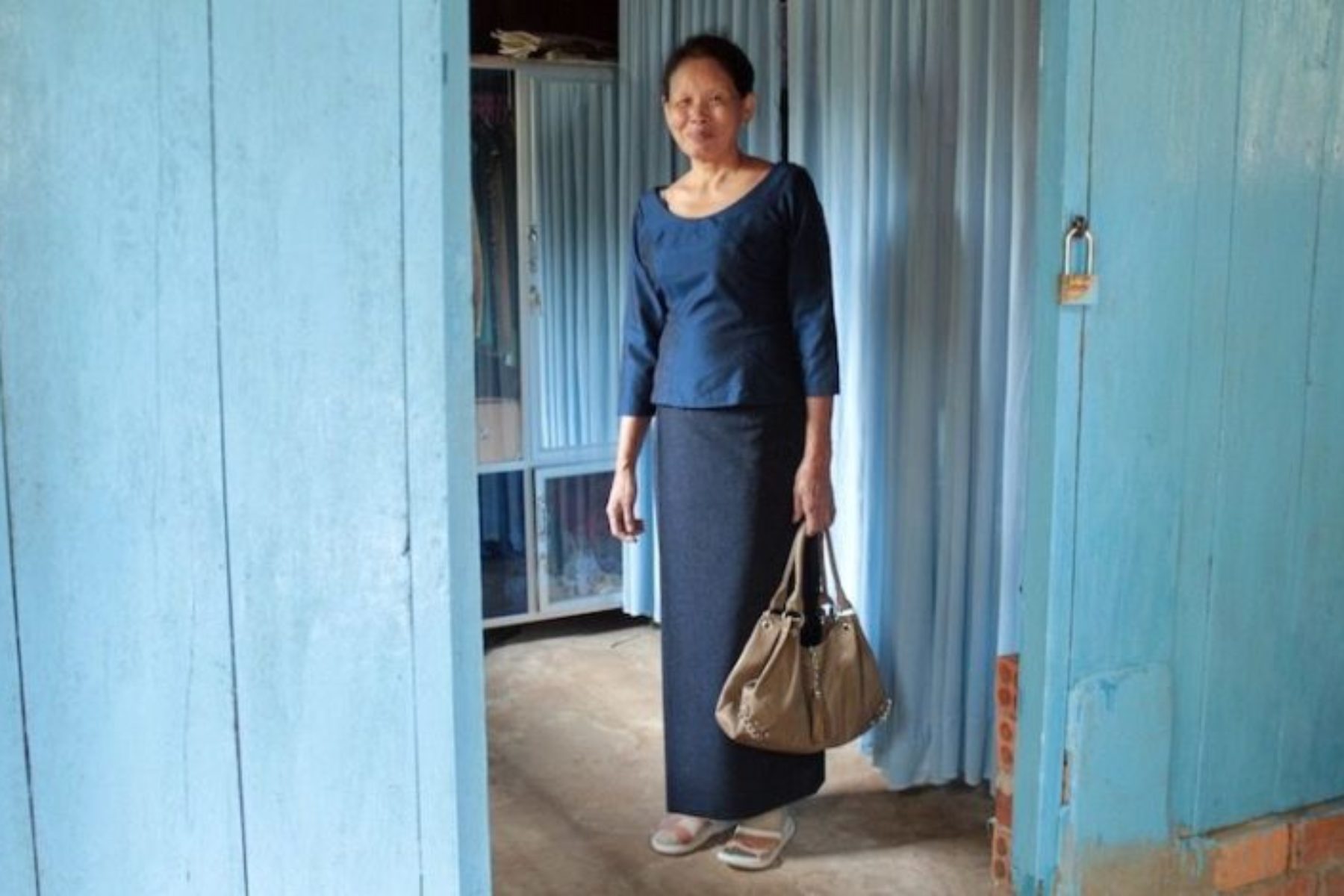 Miss Kunthy's Blue Dream
At almost 60, Miss Kunthy still loves dressing up as though she was going on a first date. But Miss Kunthy never had a fiancé or a husband. The young woman's dream was shattered when, aged 18, she received a terrible diagnosis: she had leprosy.
We arrived at Miss Kunthy's on a sweltering morning in March 2017. But as soon as we crossed the bamboo fence, we enjoyed the coolness of the leafy pergola that shaded a small round table and stone benches. A sarong tied around her waist, Miss Kunthy was crouching and doing her laundry and washing her hair next to the well.
She greeted us with a beaming smile and started chatting cheerfully, gently rebuking us for not warning her of our visit. She would have picked the bananas in her garden and cut open some coconuts – even better, she would have prepared a coconut milk dessert for us. And last but not least, she would have dressed up to welcome us.
Hit by leprosy at the height of her youth, Miss Kunthy carries several marks of the disease: a distorted mouth, a dragging leg and stumps for feet. But her love for beauty quickly makes us forget her disabilities. Her little house – a block of cement split into two small rooms – has been completely painted in sky blue. In front of her bed is a curtain, also sky blue. Rays of sunlight come in through the lace hangings on the windows. Inside a small glass cabinet, skirts, pants and shirts are hanging, all perfectly ironed.
"Sky blue comforts me, it makes me dream and travel in my imagination. I can't live without it. When I was little, I used to be fascinated by all the beautiful things I would see in the homes of rich people. I thought their houses were so perfectly tidy, clean and pretty. I used to tell myself: 'When I'm older, I will make sure that my house is as beautiful and inviting.'"
But two major events put an end to Miss Kunthy's sweet dreams: the Khmer Rouge coming to power in 1975 and the discovery of her disease three years later. "After the famine and forced labor under Pol Pot, my leg became inert, I had to drag it, and blisters appeared all over my body, all the way to my ears. The village elders recognized leprosy."
Tears have replaced Miss Kunthy's smile. "My world fell apart. I felt as though I was living with death. My mother and my sisters kicked me out of the house." Miss Kunthy then left her village and came to settle, alone, in the province of Kompong Cham, on a plot of land that belonged to her father. In 1992, she received treatment before being directed in 2001 to the Kien Khleang center for a series of surgical procedures.
Thanks to the CIOMAL teams, she recovered a taste for life. Touched by her love of elegance, the female doctors and nurses offered her the clothes they were no longer using. Today, Miss Kunthy has found serenity in the midst of her little heaven. If you pass by her house, you will definitely recognize her enchanting universe that seems straight out of a fairy tale. It is a blue house right next to the forest…
Thanks to CIOMAL's support, Miss Kunthy received a training to become a seamstress.