Nuth Hy and His Family's Good Fortune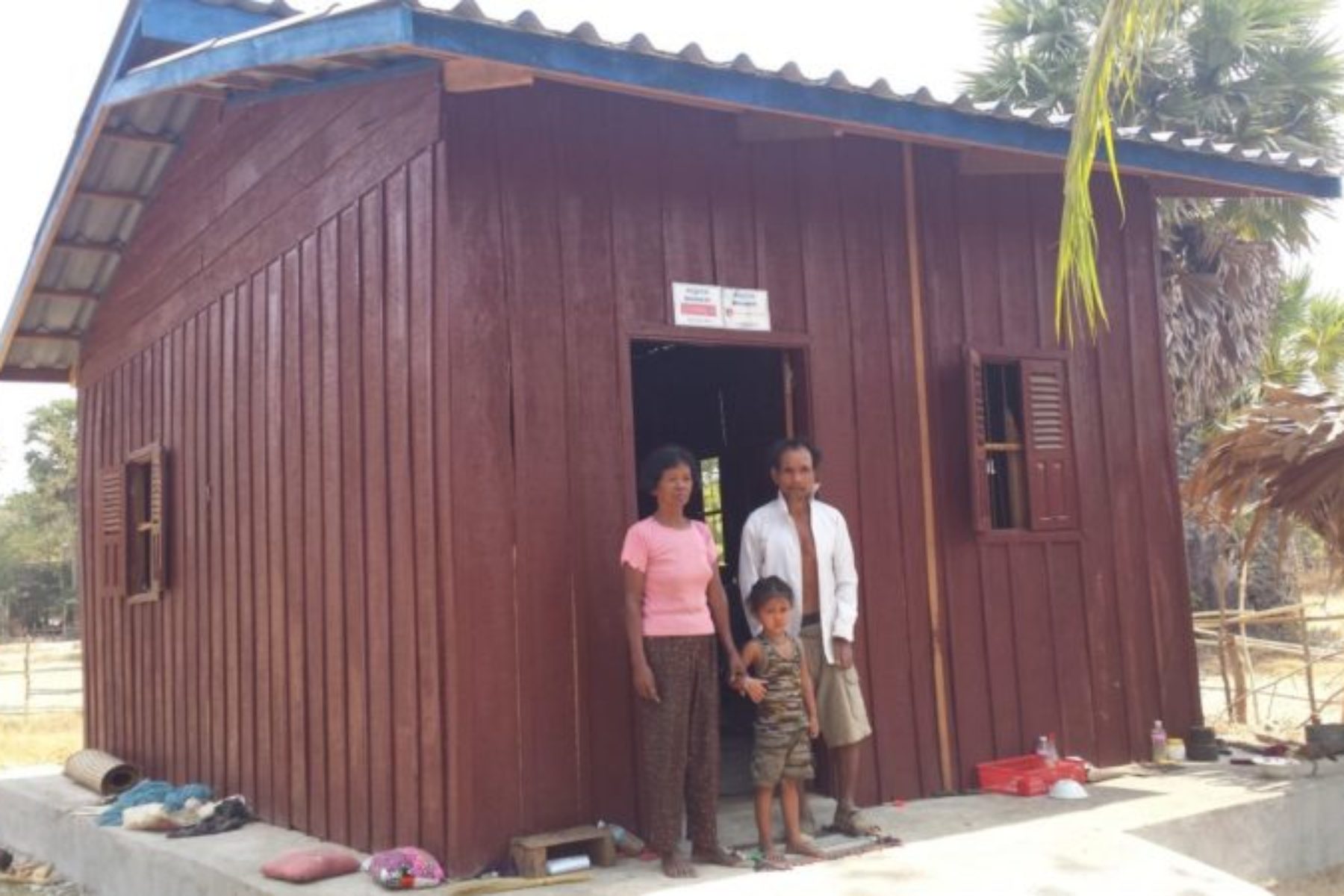 Nuth Hy and His Family's Good Fortune
This could be the story of a male Cinderella. When he lived in his hut built from palm tree leaves,    which would get soaked and rocked during storms and was an easy target for thieves and robbers, Nuth Hy never imagined that he would one day be able to provide his wife, children and grandchildren with a shelter with real walls and protect them with a real solid door. Today, it has become reality.
50-year-old Nuth Hy is from Kraing Skea, in the province of Kampong Chhnang in Cambodia. He is a father of five, a grandfather of two, and ekes a living by delivering charcoal.
It is most likely under the Khmer Rouge regime (1975-1979) that he contracted leprosy. "I had been assigned to work with a man who showed many marks of leprosy. But I was very young at the time and I didn't know anything about the disease," he recalled. "My only concern was not to die of hunger." His parents died during the Pol Pot years and, like his brothers, he was forced into marriage.
After 1979, Nuth Hy returned to his village and while he was working in the rice fields, he noticed skin lesions on his shoulder, which felt numb. He dismissed it as some ordinary skin disease and did not worry about it. Then, a new painless spot appeared on his face, his right hand curled up, he lost the use of his right foot that became inert, and he was no longer able to close his right eye. He went to the local health center but they were unable to determine his condition. He then consulted traditional healers, to no avail. As two of his brothers presented with the same signs as him, he thought it was a hereditary disease.
Not knowing what to do, he carried on with his life, not without difficulties, particularly as, in the years following the fall of the Khmer Rouge (1979-1998), civil war reached its height and his region was especially exposed and hence difficult to access.
It was only in 1992 that a medical team arrived in the village and diagnosed him and his brothers with leprosy. Shaken and disheartened, he found out that many people in his village also had the disease. He followed a treatment for two years. In 2014, he was sent by a CIOMAL mobile team to the rehabilitation centre of Kien Khleang in Phnom Penh for a series of corrective surgeries. There, the CIOMAL social team noticed him and recommended him – in light of his extreme poverty – for a sponsorship for the building of a house.
Construction started at the end of 2015 and was completed in the spring of 2016. This new status has given him a chance to find some recognition in his community and no longer be marginalized. Now, his grandchildren are no longer exposed to hazards and can sleep peacefully in the arms of their grandparents.